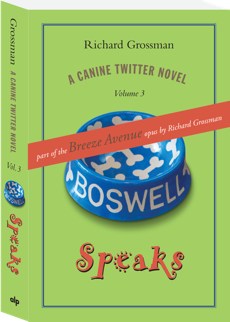 READ AN EXCERPT
Boswell Speaks: Volume 3
eBook
illustrations by Eric Hanson
Publisher: American Letters Press
ISBNs 978-0-9846497-4-7
"A dog's life is not what we think it is."
From the author's introduction to Boswell Speaks: Volume 3
Boswell Speaks is a hilarious, illustrated novel in four short volumes based on@BoswellSpeaks, the popular Twitter feed of award-winning author Richard Grossman's real-life Australian Terrier pal.
This third installment of the eBook saga follows the fun-loving Boswell and his magical chew-toy, Stuffy, on their continuing mission to discover the secret meaning of the universe in his kibble bowl. Along the way, Boswell provides mind-bending answers to burning questions submitted by his Twitter followers. 
Volume 3 finds Boswell dreaming of a hot-tub party with the unattainable love of his life, Lulu, the white Standard Poodle down the block. And we meet a host of other colorful characters in the neighborhood whose all-too-human antics provide raucous commentary on current events, politics, institutions, and personalities: there's Bruno, a left-wing Labrador and his screenwriter owners, a Maoist Shih Tzu, a cadre of Bolshevik squirrels who are organizing a protest called Occupy Street Wall, and a surfeit of right-wing, vigilante skunks, bent on keeping alien skunks out of the yard.
Boswell Speaks gives readers entry to an enchanted realm that is normally inaccessible to mere human beings. You'll never look at your animal companions the same way again!