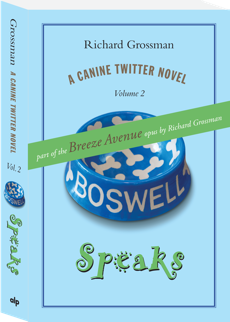 READ AN EXCERPT
Boswell Speaks: Volume 2
eBook
illustrations by Eric Hanson
Publisher: American Letters Press
ISBNs 978-0-9846497-4-7
"Grant me the serenity to leave the kibble I should not eat, to eat the kibble I should not waste and the wisdom to know the difference."
The Kibbilosity Prayer from Boswell Speaks: Volume 2
Boswell Speaks is a hilarious, illustrated novel in four short volumes, based on @BoswellSpeaks, the popular Twitter feed of award-winning author Richard Grossman's real-life Australian Terrier pal.
In this second installment of the eBook saga, we follow the fun-loving canine and his magical, chew-toy friend, Stuffy, on their continuing mission to discover the secret meaning of the universe in Boswell's kibble bowl.  As Volume 2 opens, Stuffy advises Boswell to recite the Kibbilosity Prayer and develop a belief in his Higher Poocher. Soon a vision of a winged dog appears over his kibble bowl, and —shazam!— nuggets of wisdom transmit to the irrepressible pup—and to all of us who read his tweets. Boswell's love affair with Lulu, the neighbor's white Standard Poodle, is another matter: the terrier's short legs seem sure to thwart the realization of his carnal fantasies about the towering beauty. 
For everyone who wonders what their pets are thinking, Boswell Speaks: Volume 2 reveals what our furry friends really have on their minds. While it's not surprising to learn that food and naps take high priority, you might be shocked to discover that they are obsessed with sex, reality TV, cloud-computing, Hollywood culture, twelve-step programs, and Arnold Schwarzenegger.