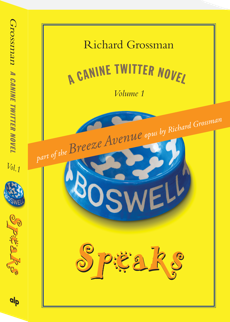 READ AN EXCERPT
Boswell Speaks: Volume 1
eBook
illustrations by Eric Hanson
Publisher: American Letters Press
ISBNs 978-0-9846497-3-0
"I saw the meaning of life written in my kibble.
But then I ate the message."
Ever wonder what your dog is really thinking? And what would he say if he had a Twitter account of his own?
Boswell Speaks, a hilarious, illustrated novel in four short volumes by the award-winning author, Richard Grossman, reveals the inner thoughts and desires of man's best friend.
Based on the popular Twitter feed of Grossman's real-life Australian Terrier pal (@BoswellSpeaks), the eBook saga follows the fun-loving Boswell and his magical friend, StuffyToy, on a mission to discover the secret meaning of the universe in the pattern of the kibble in his bowl.
As Volume 1 opens, Boswell finds himself unable to control his appetite and repeatedly wolfs down his kibble before he can receive the inspirational messages that are being served up at mealtime. Adding to his frustration is his failure to have his way with the alluring Lulu, a neighbor's white Standard Poodle, who won't give him the time of day.
In between meals and naps, Boswell and Stuffy report on the antics of the other colorful characters in the neighborhood, leading the pup and his chew-toy sidekick to tweet about things far beyond the confines of their kitchen, including Lady Gaga, Fox News, lap-band surgery, and the merits of financial analyst Jim Cramer's stock predictions. Their surprising conversations provide raucous commentary on current events, politics, and personalities.